Welcome to the latest edition of your PCSE Optician's Bulletin
 
In this edition you will find information about:

Simple CET claim process introduced for 2018
Introducing online forms to contact PCSE more easily
            General enquiry form for Ophthalmic Payments  
Submitting GOS claims in advance of the cut-off date
Avoiding rejected GOS claims
Update on the availability of GOS forms
Reminder to register your practice with PCSE Online
Welcoming Katrina Venerus to PCSE
Introducing new GOS Payment and Performer List services on PCSE Online

Simple CET claim process introduced for 2018

This year we have introduced a simple online form to upload your 2018 CET claim for prompt processing and payment. 

The new form has been used by more than 1,000 contractors since the claim window opened at the start of July and it has been well received.

The new online process ensures an acknowledgement email is sent as soon as the claim is submitted. The subject of the acknowledgement includes the name of the performer that the CET is for, to help easily identify the claim. When the claim has been processed an email will also be sent to confirm it has been dealt with and that the grant will be paid in the next payment run.

Bradford-based optometrist, Stewart Mitchell, has praised the new process, explaining that his claim was also approved on the day it was submitted and that he received his grant in the next available payment run.  

He said: "I would urge contractors to make use of the PSCE online submission service, it's quite straight forward."

The CET claim window remains open until 2 November 2018, however we would encourage contractors to submit their CET claims as early as possible to ensure they can be swiftly processed for payment and not wait until the final deadline.

To submit a claim using the online form, you will need to know your ODS code (also known as a TP code). If you do not know the ODS code for your practice you should contact the Exeter Helpdesk on 0300 3034 034 or E-mail: exeter.helpdesk@nhs.net

Further details and FAQs explaining the new process are available on our dedicated CET webpage and the online submission form is available by simply selecting 'CET Claim' from the drop down menu on the Contact Us page.
_______________________________________________________________________________
Introducing online forms to contact PCSE more easily
 
Following the successful introduction of the online CET claim form, and as part of our ongoing commitment to create national, consistent services for all our users, we are also introducing an online enquiry form specifically tailored for Ophthalmic Payments.
 
General enquiry form for Ophthalmic Payments 
 
Later this summer, we will be introducing a new online enquiry form specifically for ophthalmic payment queries.
The form will contain different options to ensure your query gets to the right team as quickly as possible. The tailor-made form will include all the required fields PCSE will need to process your enquiry. 

There will be different categories for who is submitting the form, for example:
Contractor/optical practice

Local Optical Committee

Member of public (for HC5 queries only)

Regional Local Team
When the category has been selected, there will be a prompt to specify the different query types as shown below: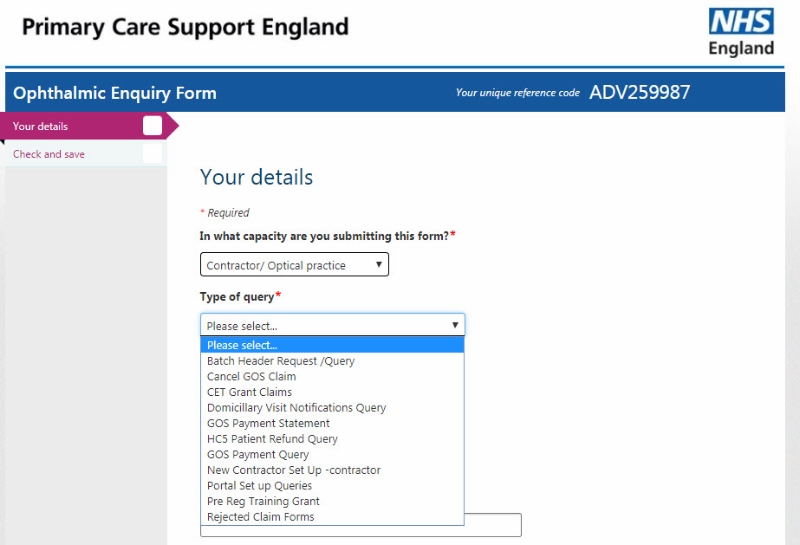 The online form can be used by all members of the optical community and we will send out further details as soon as it is available.
_______________________________________________________________________________
Submitting GOS claims in advance of the cut-off date

PCSE manually processes approximately 1.2 million GOS claims every month.  We have noticed a large volume of forms are sent to us just one or two days before the submission cut-off dates.  It would be very helpful if forms could be sent to us on a weekly basis throughout the month to support us in processing them in a timely way and manage the flow of forms through the service.
_______________________________________________________________________________

Avoiding rejected GOS claims

PCSE is working with NHS England and LOCSU to continue to remind contractors of the best practice guidance for completing GOS forms.  We want to be able to process all claims received first time and avoid rejecting forms.

The criteria for rejecting GOS claims has not changed and the links below show best practice examples of GOS forms that are accurately filled out.  They highlight the mandatory fields and confirm what information is acceptable when completing certain fields. 
 
GOS 1            GOS 3             GOS 4             GOS 6

To ensure your GOS claims can be processed please refer to these examples and check that all the mandatory information is included before a form is submitted. 

The most common reason for rejections is the omission of a parent/guardian/carer name below their signature.

The main reasons GOS claims are rejected are:  
Name of parent/guardian/carer is omitted below the signature line.

Date of last sight test is left blank on a GOS1 or GOS6.

Contractors who are also Performers have signed a GOS1 or GOS6 in the Performer's declaration section only, rather than the claim section at the bottom as specified on the form.

Date of prescription missing on a GOS3.

Values not entered in the relevant boxes in the claim section on a GOS3 and a GOS4.
You can also refer to guidance on "Filling and Signing GOS forms" in Section 5 of Making Accurate Claims.

To ensure the correct voucher amounts are included in claims, please refer to the Optical Confederation's Vouchers at a Glance.
_______________________________________________________________________________
   
Update on the availability of GOS forms

Following the communication sent in May which advised that PCSE had limited or no stock of some GOS forms due to issues with third party suppliers, we can confirm that all areas now have normal stock levels of these forms which can be ordered in the usual way via PCSE Online.

Any orders already placed will be fulfilled. There is no need to place a new order. If an order has not yet been received, please contact the Customer Support Centre on 0333 014 2884 so we can check the status of the order.
_______________________________________________________________________________
 
Reminder to register your practice with PCSE Online
 
All practices need to register with PCSE Online to be able to: 
Submit CET claims

Order supplies of GOS forms

Contact PCSE with queries

Ensure your practice receives regular communications and updates 
For data security reasons, PCSE can only respond to email or phone queries from people who have registered to use PCSE Online (which has also been referred to as the 'PCSE Portal').
  
Online registration enables PCSE to carry out the necessary identification and verification checks and therefore ensures we only respond to authorised contacts in your practice. 
  
If your practice is already registered on PCSE Online, the main contact/super user will be able to add or amend additional users in your practice.  We would encourage you to check the named contacts that are currently included under your practice registration and update accordingly.
 
Please note, if you have more than one practice you need to register each practice separately.  
  
For more information about PCSE Online, including how to add or amend users in your practice, please visit www.pcse.england.nhs.uk/help
_______________________________________________________________________________
Welcoming Katrina Venerus to PCSE

We are pleased to announce that Katrina Venerus has joined Primary Care Support England (PCSE) as a Special Advisor and Subject Matter Expert to our Ophthalmic Payments service line. 

Katrina has been a member of PCSE's stakeholder forum since the start of the contract, providing invaluable insight into the optical sector and representing the voice of the customer. 

As a key figure in the sector, we are delighted she has agreed to bring her expertise to support our operational improvement programme and lend her influence to our transformation plans to modernise the service.

Katrina is on secondment from her post as Clinical Director at the Local Optical Committee Support Unit (LOCSU).

Richard Whittington, LOCSU's Chief Operating Officer said: "LOCSU and the Optical Confederation are pleased that Katrina is taking up this secondment to provide direct expertise to PCSE's operational improvement work and the forthcoming transformation of the ophthalmic payments service.

"It is clear that modernisation of the payments service is needed urgently to streamline the claims and payments processes for practices and this secondment fits with our commitment to supporting NHS England and PCSE to ensure the transformation programme is a success for our sector."
_______________________________________________________________________________
*** NEW ONLINE SERVICES FOR GOS PAYMENTS AND PERFORMER LIST ***
Introducing new digital services on PCSE Online
From November, PCSE Online will offer new, easy-to-use digital services for Ophthalmic Payments and Performers List.
The new online services will provide the facility to submit GOS claims in real time, view statements, and  submit performer list applications and change notifications.  PCSE Online will mean the use of paper forms will be reduced and postage and manual processing will be replaced by digital technology, offering a more modern service from PCSE.
Benefits will include greater accuracy of payments, more detailed statements for easier reconciliation and a quick, intuitive way to submit performer list changes. 
Registering for the new services
Later this summer, we plan to send a letter to all Ophthalmic Contract Holders with instructions about how to register for these new services to be able to:
✓ Submit GOS claims (including authorised signatories)
✓ Track the status of claims
✓ View statements
✓ Submit performer list change notifications
Each contract holder will need to nominate up to four user administrators who will have responsibility for designating the appropriate access permissions for colleagues within their practice.  Having more than one user administrator will ensure any staff absences are covered.
Currently most practices just have a Supplies User Administrator for PCSE Online who can order paper GOS forms, make enquiries and receive our communications (see update above).  This role can remain the same when the new services are introduced on PCSE Online or it can be re-assigned as appropriate.
We have updated the PCSE website with some Frequently Asked Questions (FAQs) about electronic GOS submissions on PCSE Online.  We will also update it with additional information to help guide people through the online registration process.
You can find out more about the benefits of the new electronic solutions on the What's Changing section of the PCSE website.
*** Please Note ***
Practices and stores who use Practice Management Systems (PMS) should speak to their PMS provider to find out more about their plans to roll out eGOS on their systems.   Staff from the optical chains should contact their head office to find out more information.